day 241
man, i leave so many things for the last minute, whether it's printing photos at Walmart yesterday night right before 9 or sending out the setlist the night before. how frustrating because i know it burdens others, but i hate the fact that when i leave it for the last minute, i rush & forget key details. anyways, i stayed up until 3 am last night, trying to get stuff done and finally, writing in karen and matt's books… why do i do this to myself?
anyways, i managed to wake without feeling horrible despite the lack of sleep. i got dressed and did some final packing but again, because i didn't prepare, i forgot stuff. good thing i was able to come back home after church to pick up my cell phone charger.
church was fun and it would be the last sunday for matt. we finally gave them their senior gift books, and they seemed to love them! i can't wait to see matt for christmas break.
after church, we had some time to go back home, so i did some packing and even though i was in a time crunch, i decided to go to guitar center to buy some stuff on sale. what a BAD decision. because of that, i missed the south acton train at 4:25, and i had to get my parents to drive me all the way to fitchburg. what a hassle, and this is all because i decided to leave things for the last minute! lesson learned… i hope. thankfully, i got to the station before the train arrived, and i was able to see everyone! i'm so glad my parents and sisters were so patient with me. i think its times like these when i truly realize how love can be patient.
it was fun seeing everyone and chilling at toah nipi. gosh, it's so crowded! this is the largest summit ever, and bc probably brought the most kids. i played some ping pong and basketball and we listened to a message and LOTS of announcements. then, we had some campus time and that was pretty interesting but it was LONG. 
i finally went back to the room to shower, take out my contacts, but after spending 20 minutes on my right eye with no success, i went to my left eye and took it out on the first try. what?! so i gave it a couple more shots, but i think i lost my contact in my right eye. it must've fallen out when i ran into grace during basketball… haha so i guess THAT'S what knockout means. :D good thing my eye didn't get knocked out… anyways, i'd much rather lost the contact than wake up tomorrow with an eye disease. most people told me that the couldn't find it and hopefully it's not behind my eye or something. i don't feel any pain aside from all that prodding around with my finger.
Oh, and i met john at toah nipi! i hope he likes it too especially with the tufts group. it's gonna be a great week at summit, and i totally forgot, but i finished donald miller's father fiction on friday!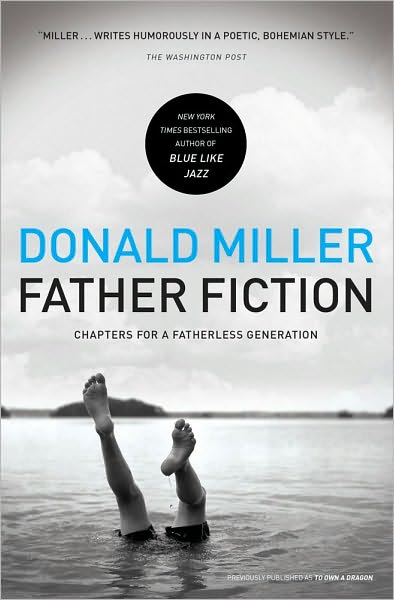 it was good, but it didn't seem to carry the same impact as the other two i had read. possibly because i really can't relate to being fatherless…
and i'm envious that my sister has NO trouble with contacts. seriously?! she got them out of her eyes on the first try and for me, it's been a week and i'm slowly getting the hang of it… spending just 10 minutes.
haha whatever. i'll put my contacts worries aside and look forward to tomorrow!
the life & times of michael john liu: Excerpt from Donald Miller's Father Fiction
ooh. i might have to get this book now. i love donald miller!

Donald Miller's re-release of one of his previous books, To Own a Dragon, with four additional chapters, is generating an interesting buzz in the comments section on his site as he's been posting edited excerpts from it for his readers. The book (I own the first release of it) is (in his…